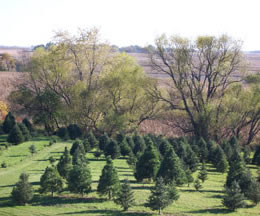 Begin the Holiday Season with a trip to the country. Kragel's
Christmas Trees and Traditions invite you to begin or continue the tradition of harvesting a fresh grown Iowa Christmas tree. We appreciate your loyalty and will strive to offer our customers Christmas trees and service of quality and value. Kragel's Tree Farm is located in a quiet and peaceful setting near the Winnebago River in the rolling hills of North Central Iowa. (DIRECTIONS)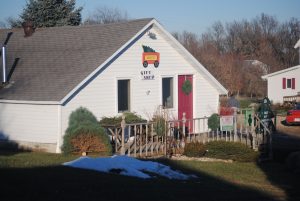 We offer FULL SERVICE to our customers. Our customers can take their time choosing the right fresh trees in our mown, clean field lots. You can harvest your own tree with provided saws or we will harvest your tree for you. We will carry your tree out of the field, machine shake your tree, net your tree for easy handling, and load your tree into your vehicle. We have great tree stands that allow for quick and easy set-up. For those who don't want to walk the fields, we will have fresh trees already harvested and set up in the loft of our barn.
While your tree is being loaded, visit our Gift Shop. Enjoy free hot apple cider, hot chocolate, and peanuts while shopping for Christmas gifts, Christmas decorations, and other decorating items.
---